Master Artist & Inventor
History Facts About The Amazing Mr. Walker
Master Portrait Artist: Larry Walker was born in Memphis, TN. In 1975, Walker was awarded a full scholarship to the Memphis College of Art, where he received his four years of formal art training. After college, he received many national awards and recognition: one of his most notable achievements is the national Grumbacher Art Award. This prestigious award is only given to elite artists in the United States of America for outstanding abilities in the field of fine arts. Walker is committed to motivating young artists to help them develop confidence through the world of art. This may be why he was considered the most requested artist with Arts Memphis for eight years in the Artist-In-The-School program.
In 1990, Walker produced a popular five year run community arts television Talk-show entitled Personal Portrait,, which aired on Memphis cable television community channel.
In 1994, the Tennessee Historic Council in Nashville commissioned Walker to create a 30" X 36" oil painting of civil rights activist and newspaper publisher Ida B. Wells. The original painting is still hanging in the Tennessee State Capital in Nashville as a part of the Tennessee Historic Council's permanent historic art collection.
In 2011, Walker was personally asked by former Mayor Willie W. Herenton, the first elected African American Mayor of Memphis, to paint his official portrait for the Memphis Hall of Mayors. During that same year, Walker was also commissioned by the Memphis Shelby County office to paint a portrait of former Shelby County Mayor AC Wharton for the Shelby County Hall of Mayors.
Inventor: Walker is also an inventor, his latest invention is Paint Yourself Clean. This product is a fun and informative personal hygiene set for kids.
CLICK THE LOGO BELOW TO VIEW THE PRODUCT.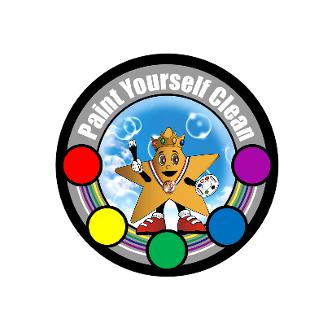 Click the video presentation below to Learn more about the Artist
"The Amazing Mr. Walker"
Click Black Box below To Learn More.
The Amazing Mr. Walker at work